Regular price
Sale price
$187.00
Unit price
per
Sale
Sold out
See all avalible discounts

Or get 15% discount on each 2nd Complete Performers vest
Discounts can not be used in combination with other discounts or offers.
The EZCooldown Performers vest is specially designed for actors, cosplayers, LARPers, fursuiters, and other costume performers. You can however use this cooling vest under any clothing to prevent heat stress.

The PCM Performers vest provides hours of cooling comfort and prevention against heat stress. Each vest comes with 4 PCM packs which can be quickly activated in your fridge, freezer or in ice water and can be re-used over and over again. Once activated, the PCM maintains a steady and low temperature for a long time, providing comfortable cooling relief even during strenuous activities in high-temperature environments.
The EZCooldown Performers vest is made out of thin yet durable polyester mesh which doesn't add a thermal insulating layer to your outfit.

The four inside pockets can house four PCM packs: two on your chest and two on your lower back. Changing the inserts for a set of fresh ones can be done in minutes. 
So while you're wearing one set, you can activate a second set in your refrigerator, freezer or a bucket of ice water. By rotating two sets you can stay cool during the entire day! 
You can also store activated sets in a cooler or insulated bag. They'll stay cold and ready to use for up to 12 hours.
The Performers vest size M is a one-size-fits-most and can be easily adjusted with the six Velcro straps to fit each individual wearer perfectly. This snug fit makes the vest virtually invisible under costumes, adding only 5.5 cm (2 3/16") of chest circumference when using the eight-cell PCM packs and 6.2 cm (2 1/2") when using the four-cell PCM packs.

Size M fits most adults with an average to large body type,
or when your height is between 170-210 cm (5.57-6.88 ft)
and a chest/waist circumference of 80-160 cm (31.5-63.0 in)

Size S fits most teens and adults with a small/petite body type,
or when your height is between 140-180 cm (4.60-5.91 ft)
and chest/waist circumference is 70-130 cm (27.5-51.2 in)

Size L fits persons with a height of 170-210 cm (5.57-6.88 ft)
and a waist circumference of 140-180 cm (55.1-74.8 in)

Please note that standard T-shirt sizes do not apply to this vest.
If you're in between sizes, we advise ordering the smaller size.
If the size you ordered doesn't fit, you can simply return the vest and we will send you a different size at no cost.
Share
View full details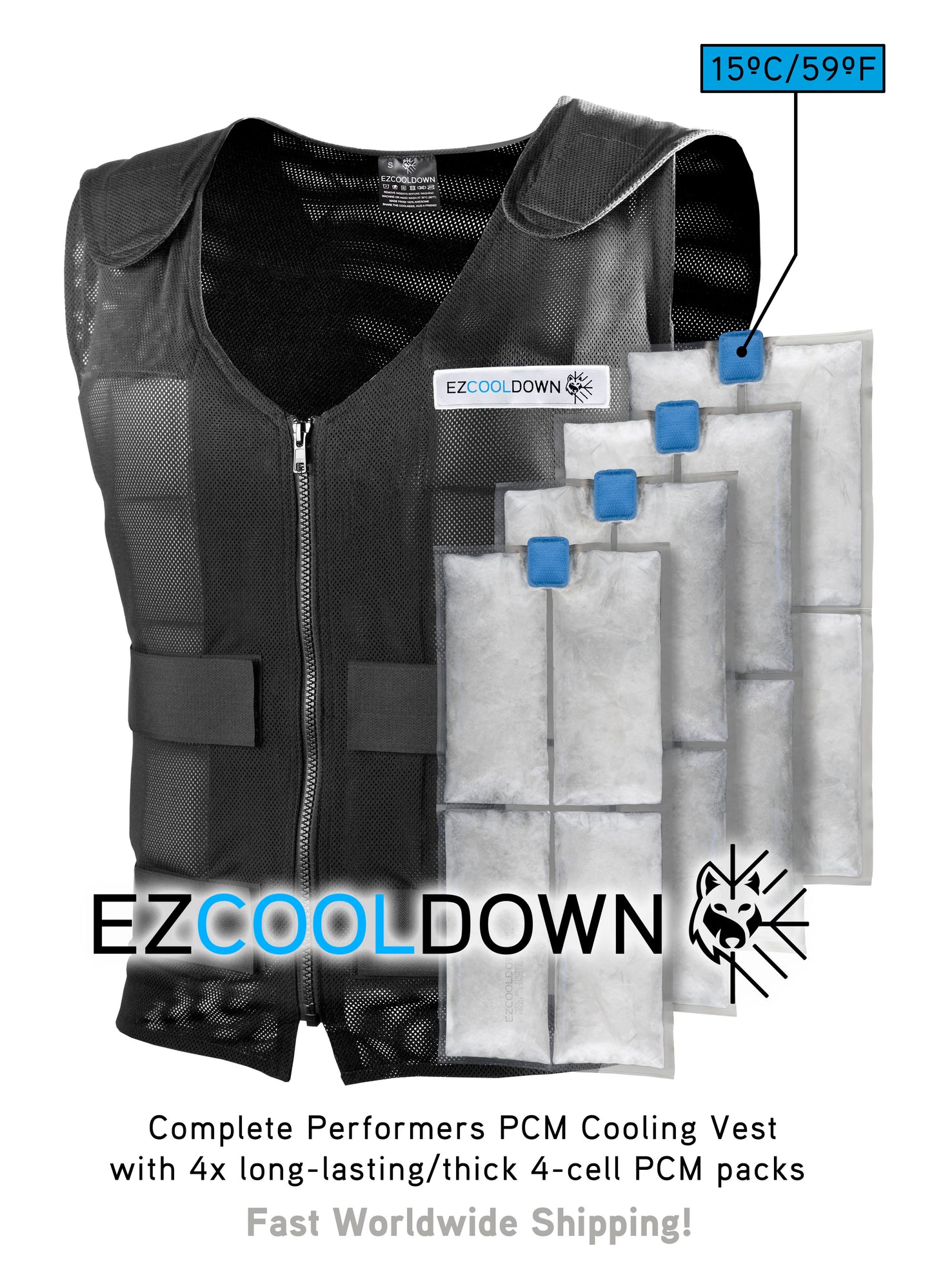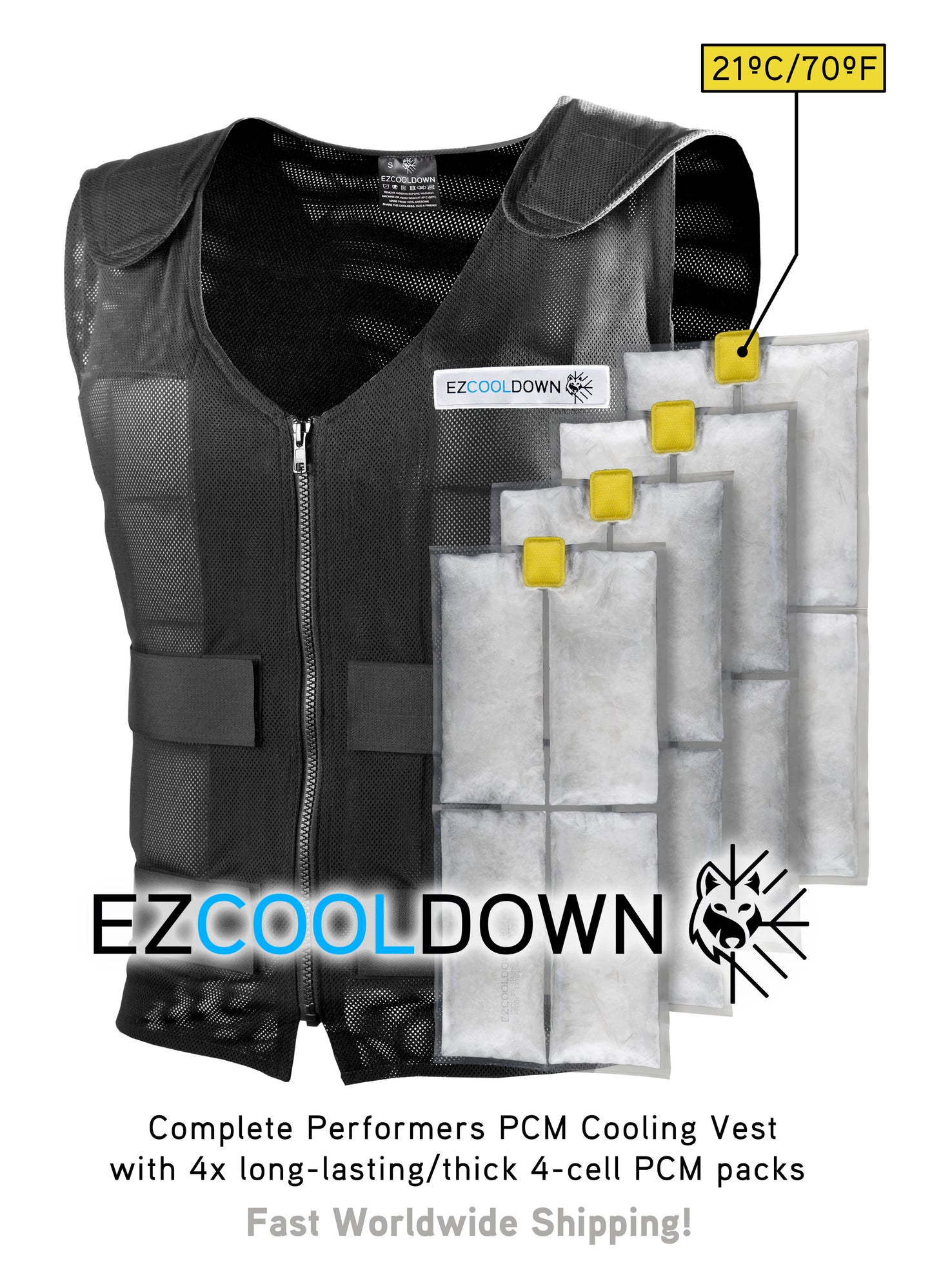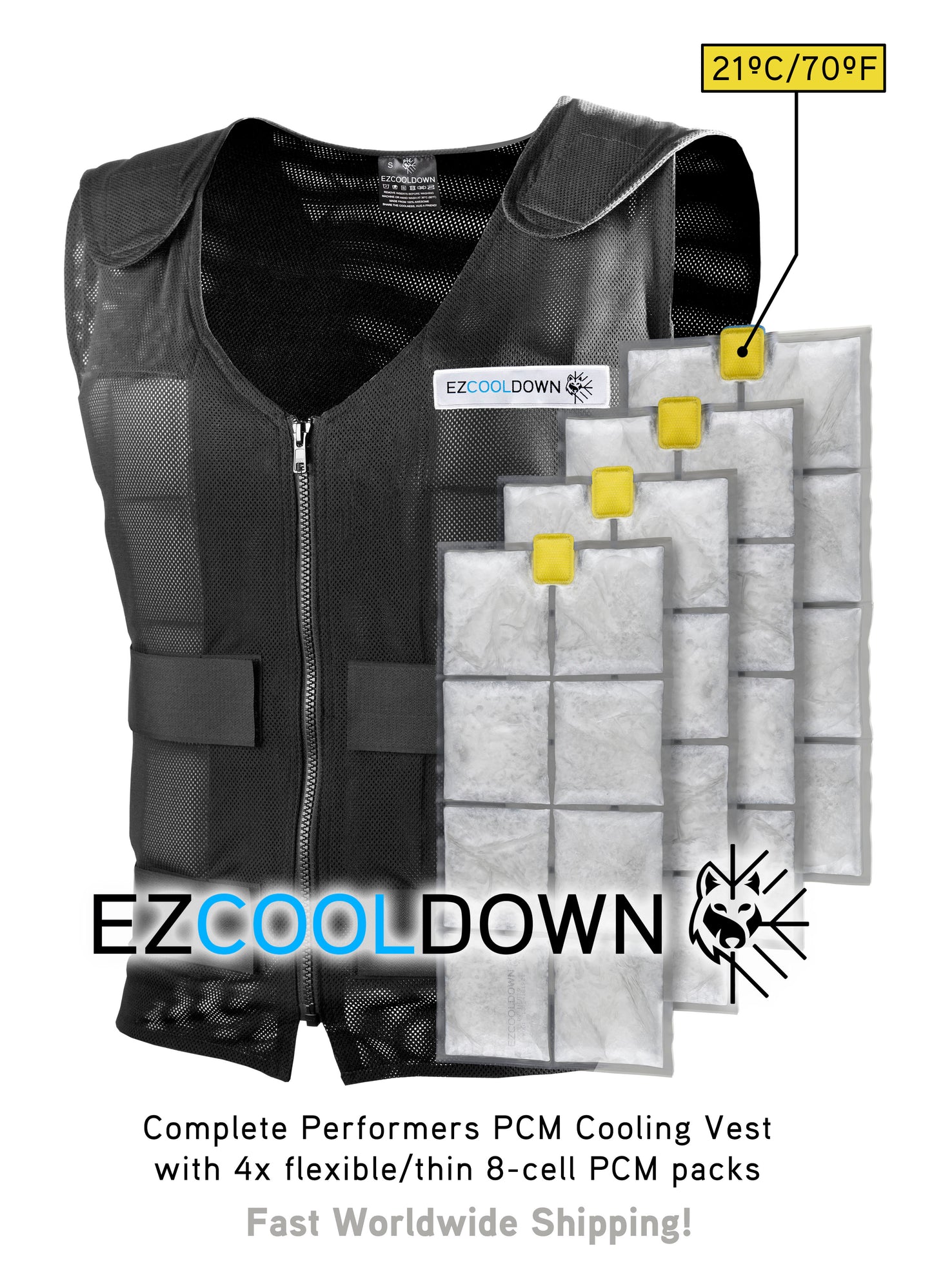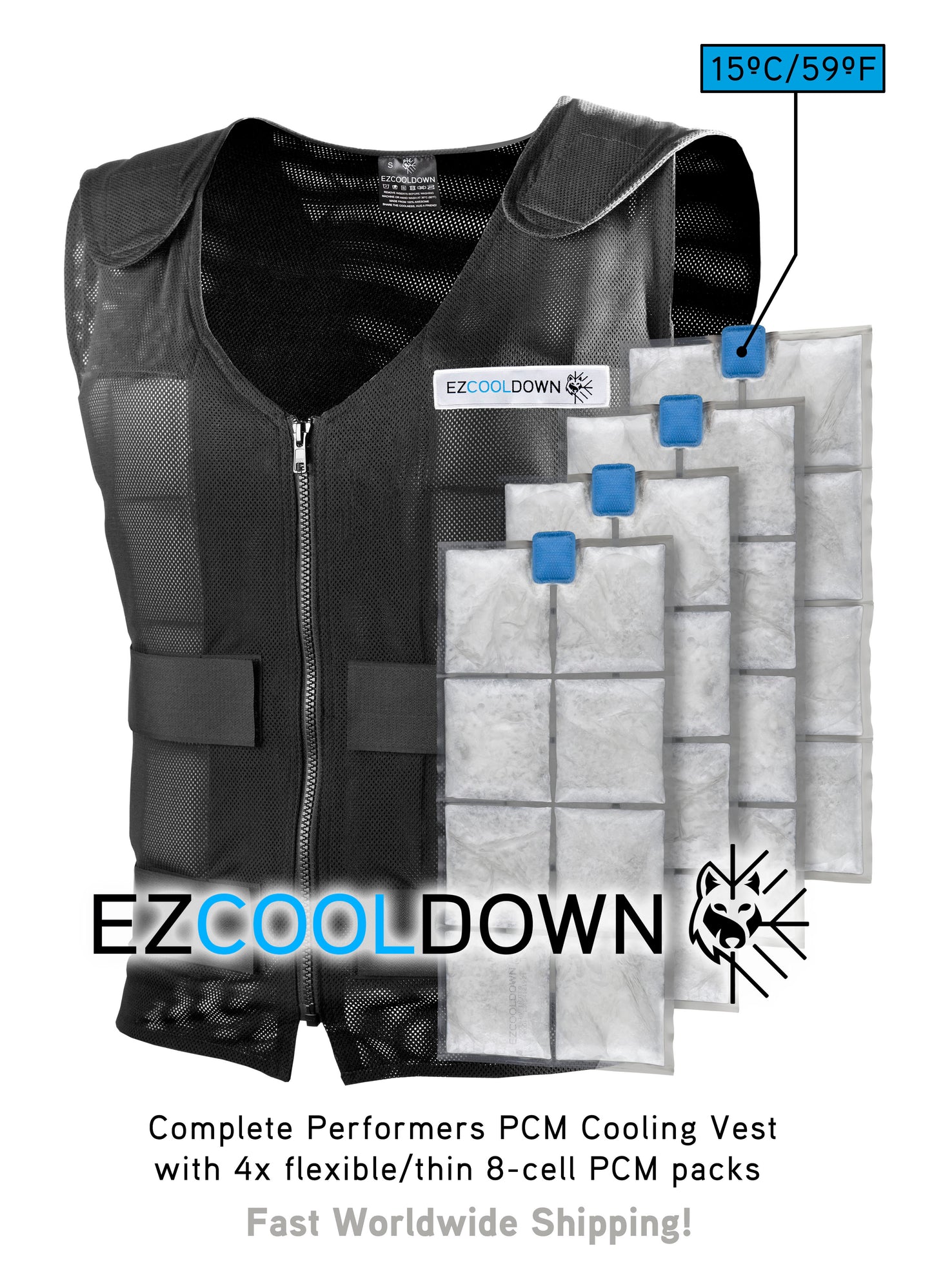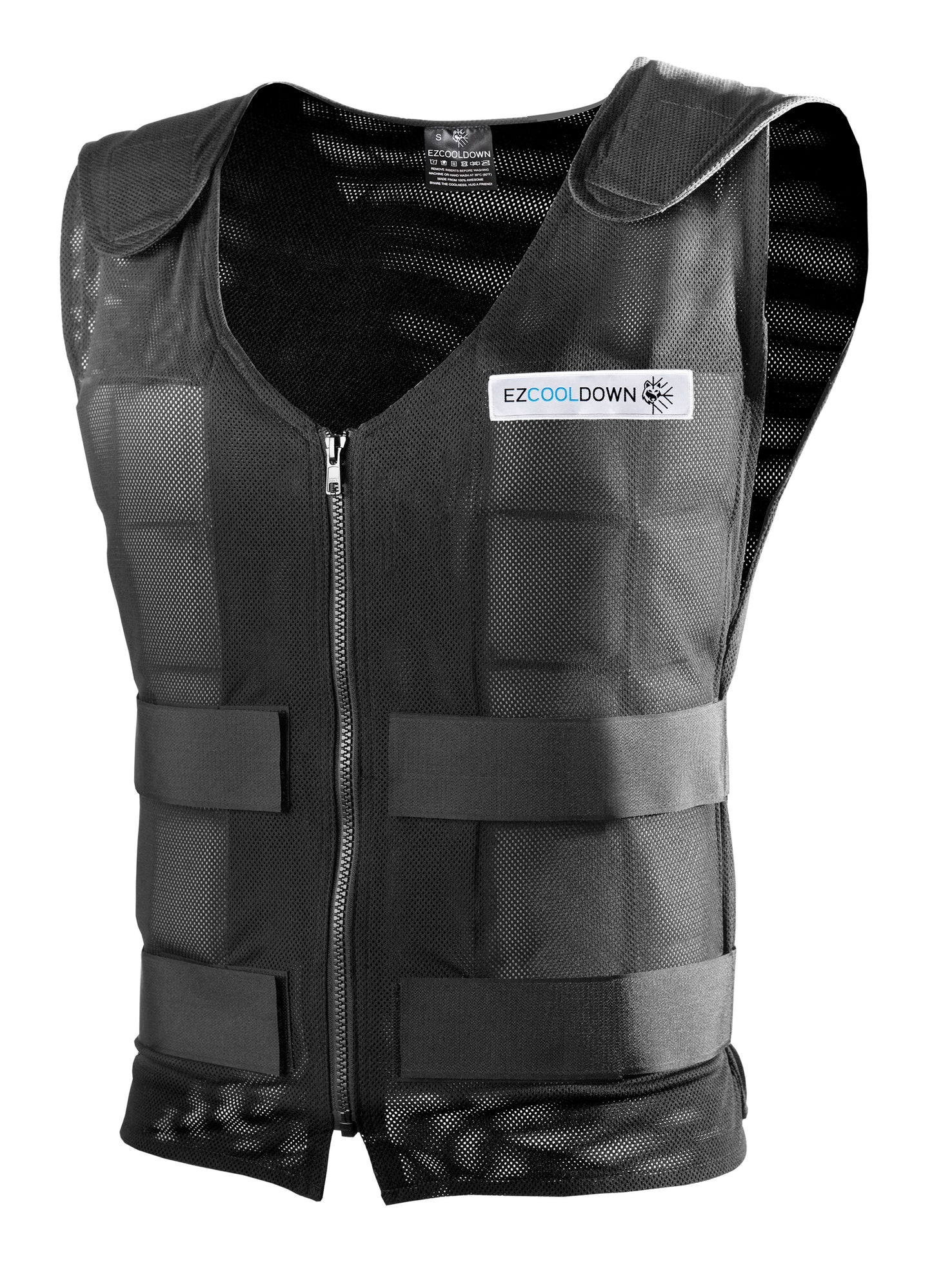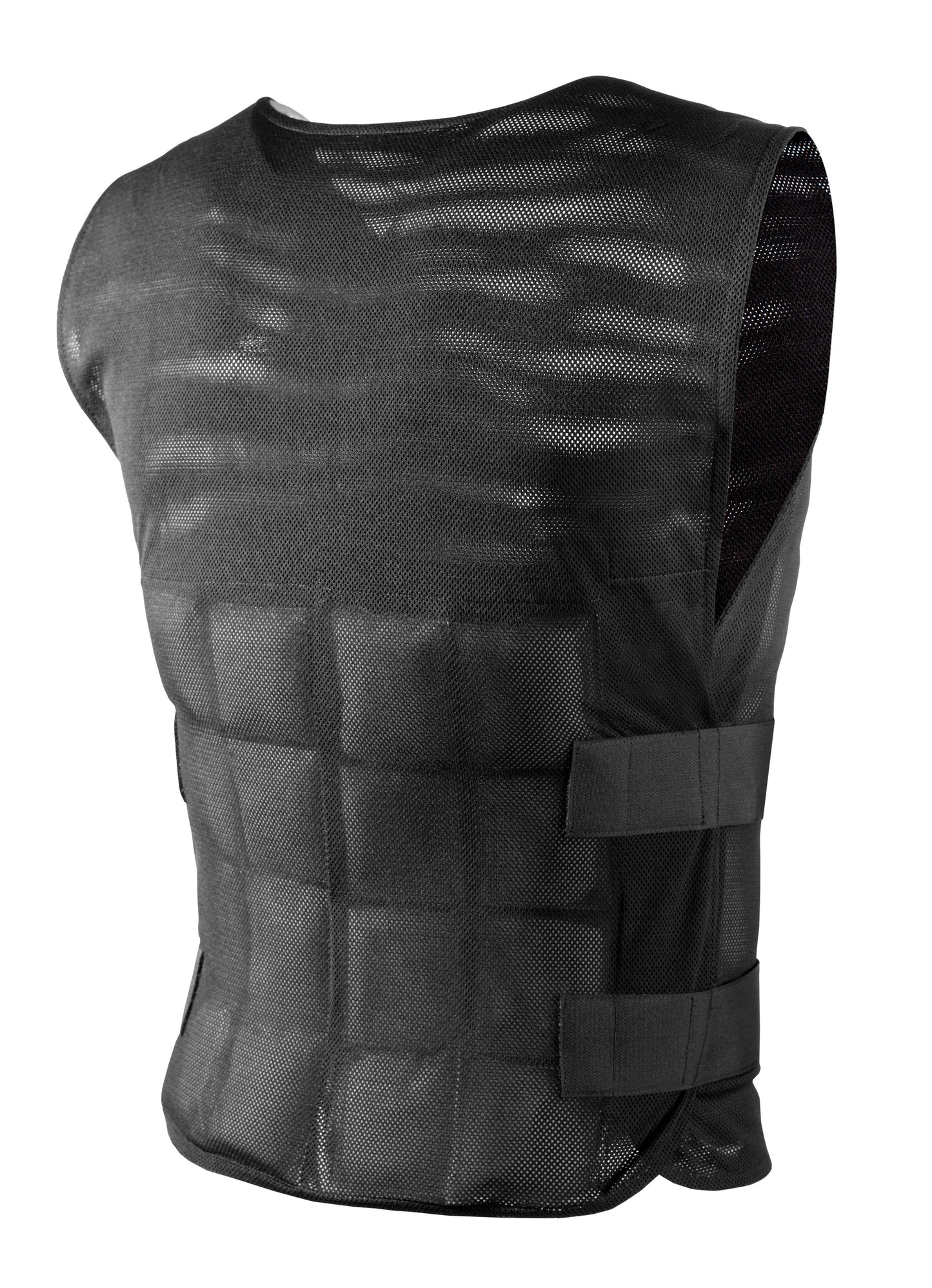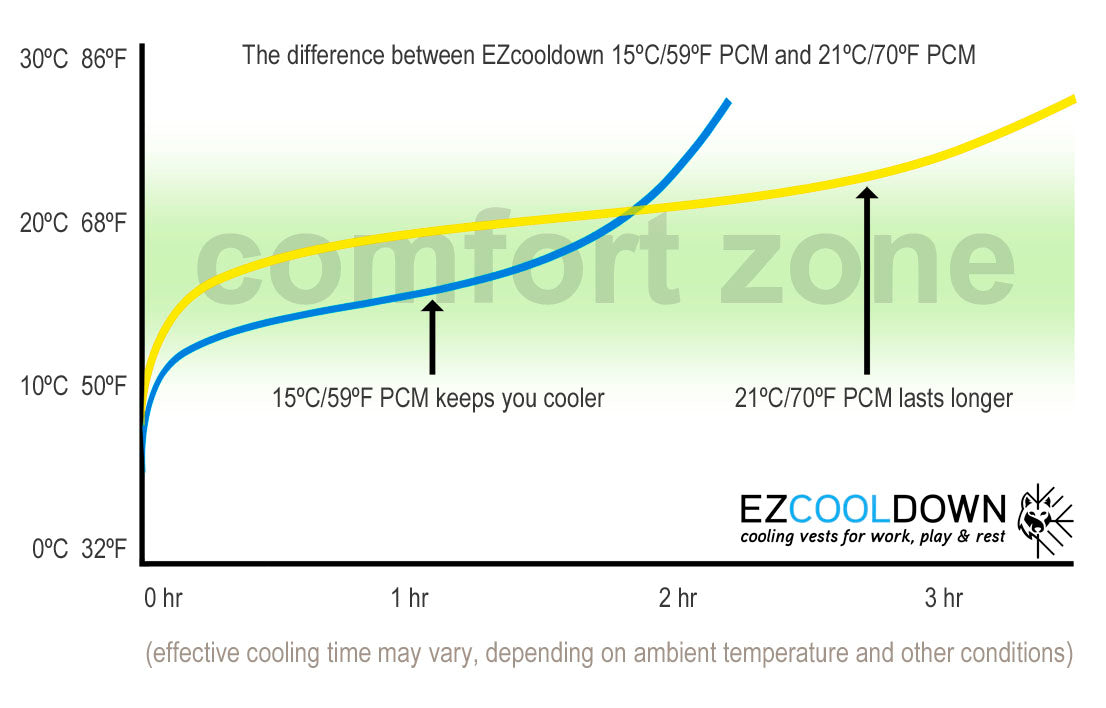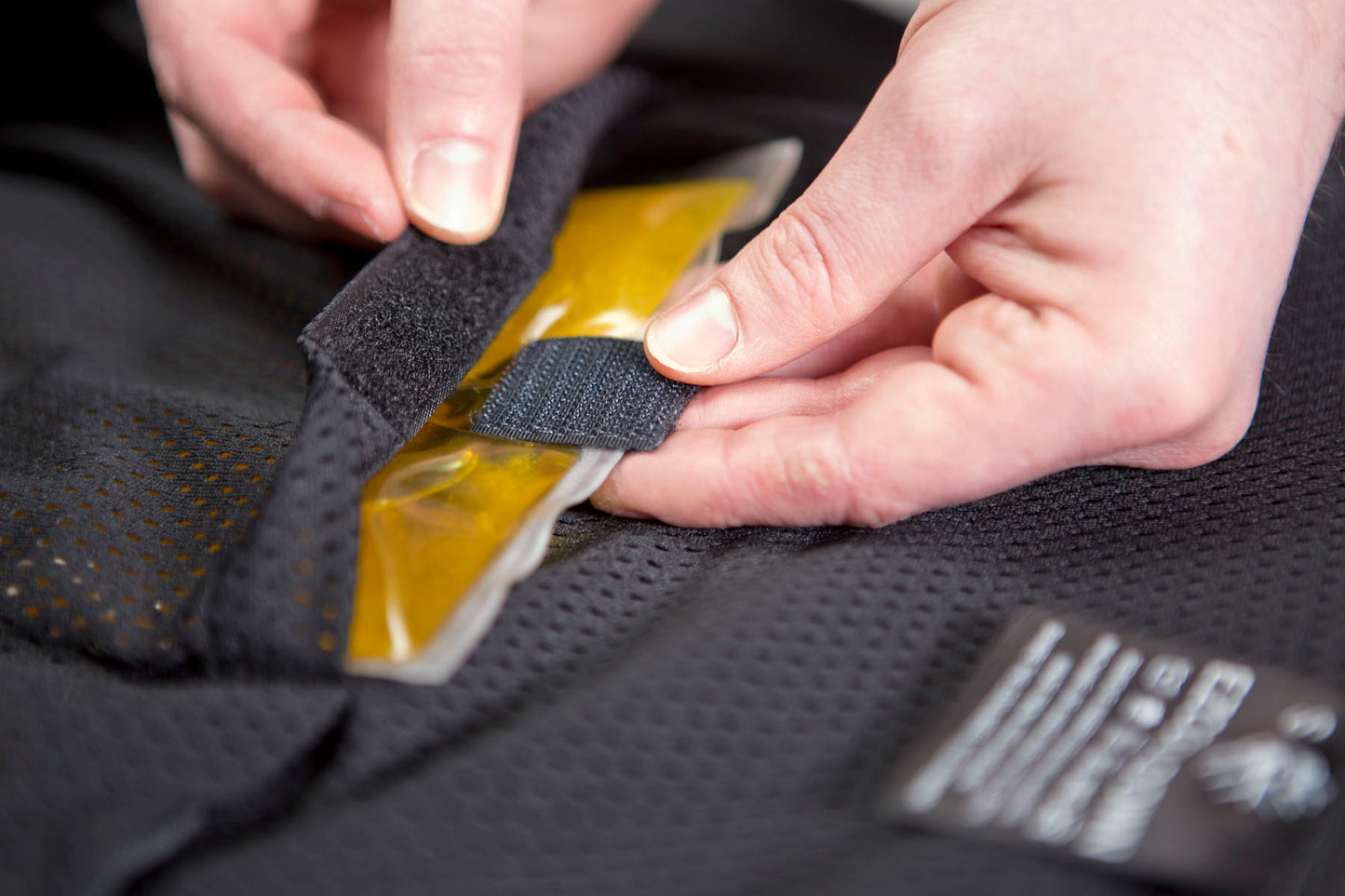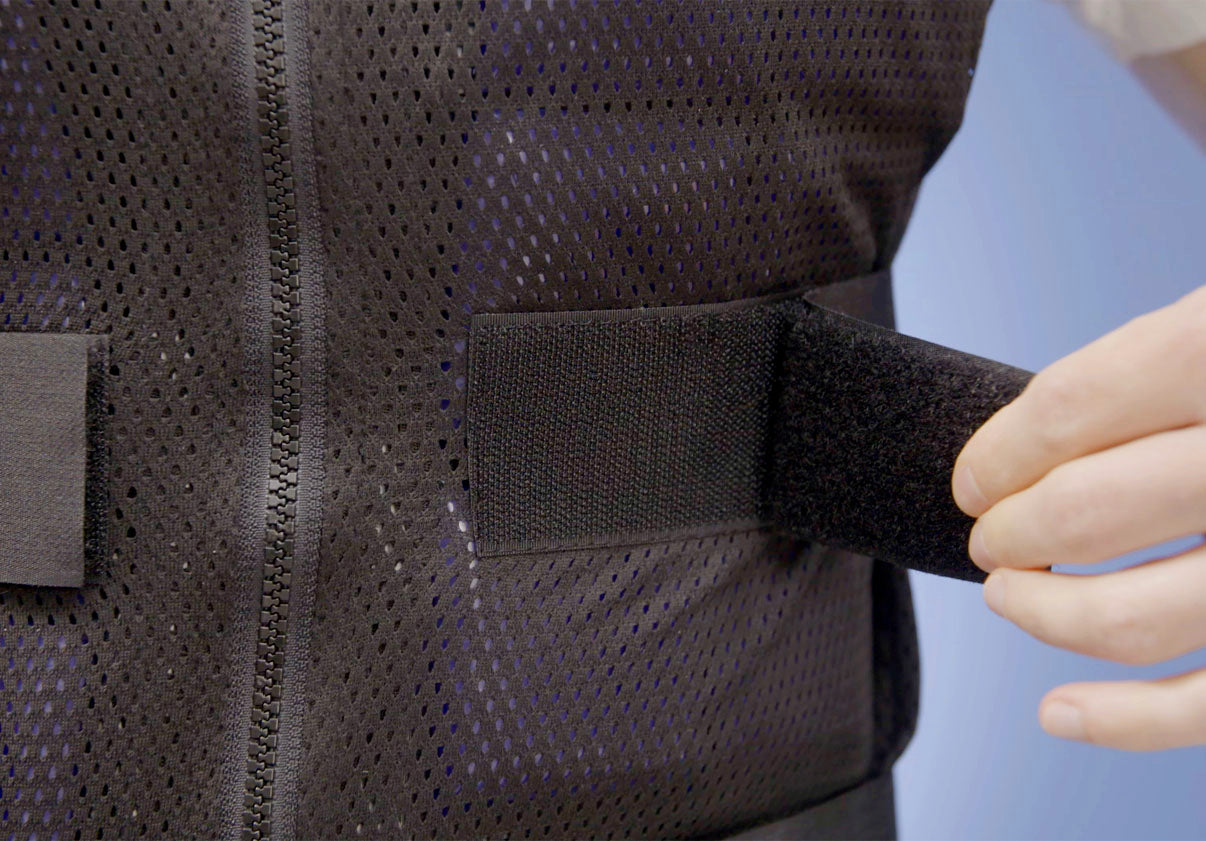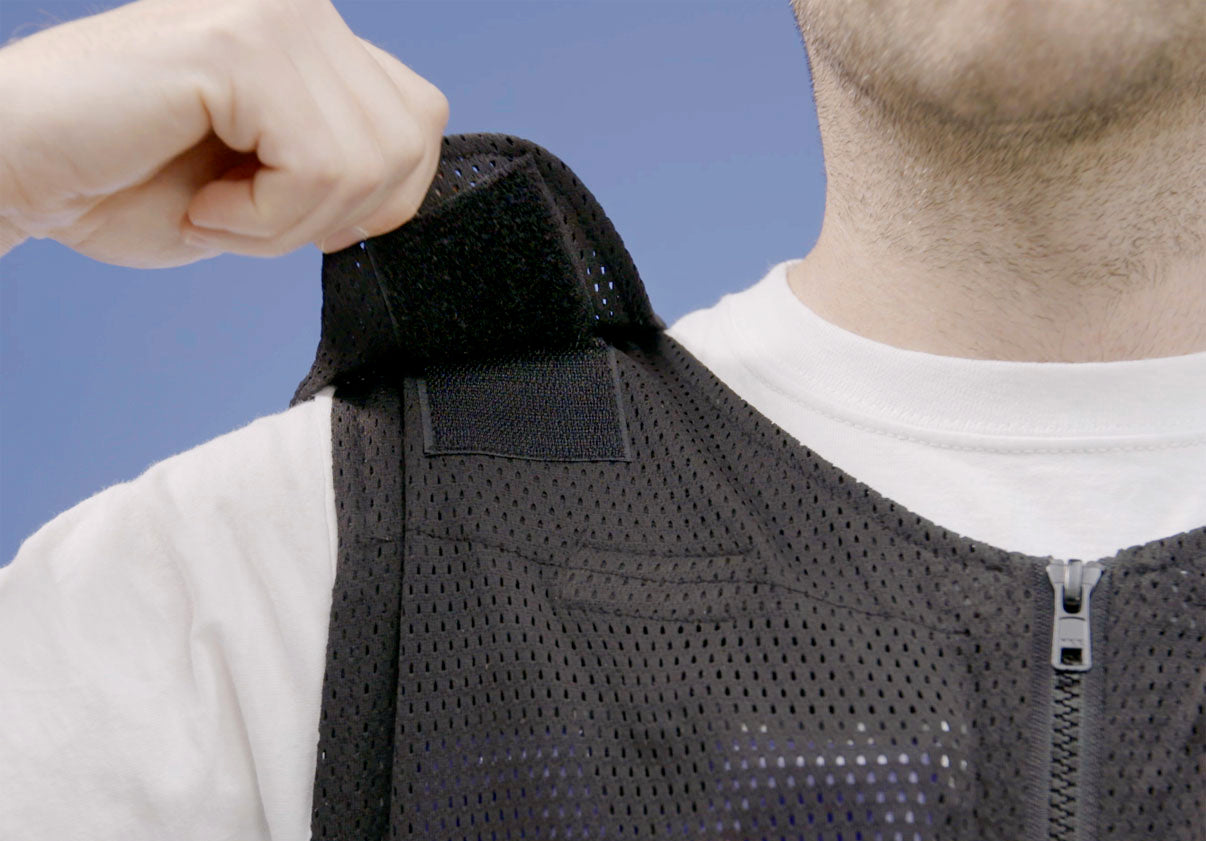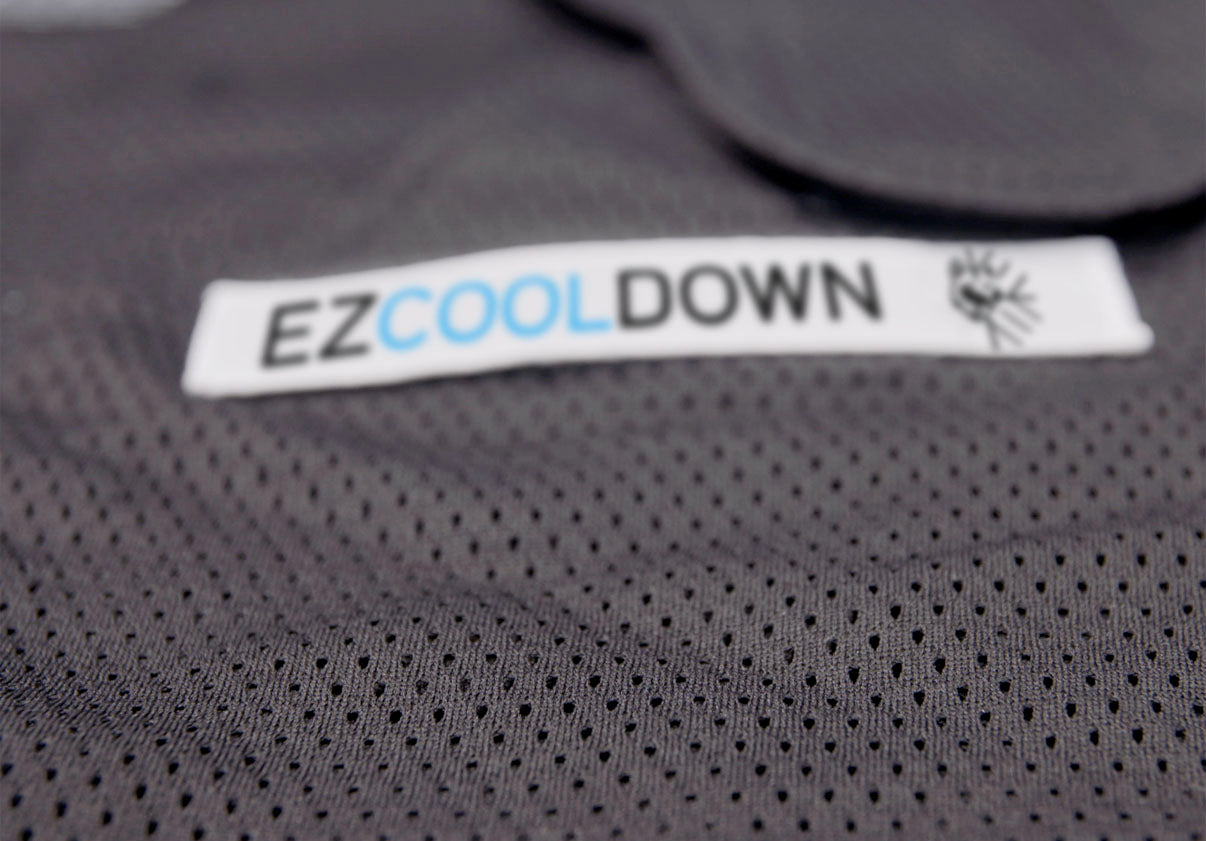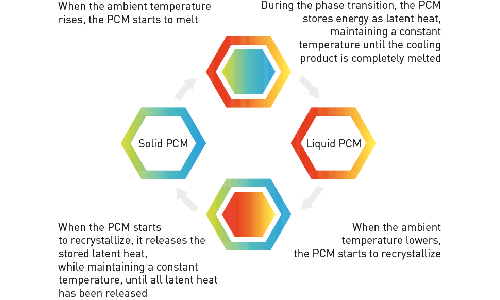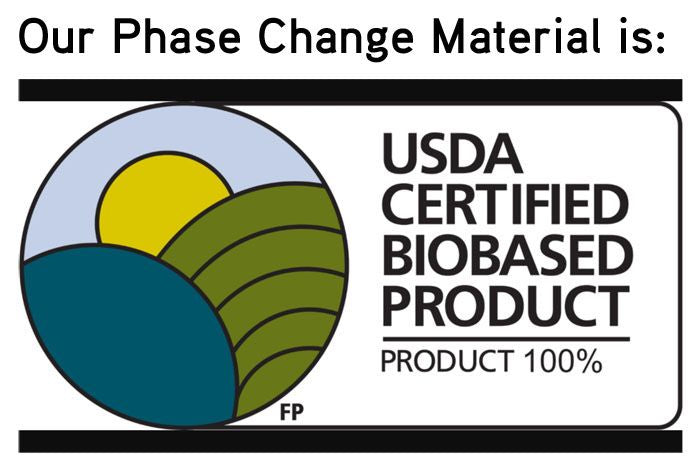 Phase Change Material (PCM) Cooling Packs
Choosing a PCM Temperature
When you need maximum cooling for a short amount of time, choose the blue 15°C (59°F) PCM packs.
When you prefer longevity over absolute cooling ability, go for the yellow 21°C (70°F) PCM packs.
Next to these standard temperatures, we manufacture PCM inserts in other temperatures on request, ranging from 6.5°C (43°F) to 29°C (84°F). Please contact us for details.
Choosing a PCM Configuration
As well as different temperatures, we offer PCM packs in two different configurations:
The 8-cell packs are thin and flexible. They'll fit under virtually any costume but offer less cooling longevity compared to the 4-cell packs.
The 4-cell packs contain approximately 35% more PCM so they'll keep you cool for longer.
They're a bit thicker though, so they're less suitable under skin tight costumes.
How PCM cooling vests work video
About our PCM Cooling Packs
Our PCM packs use a revolutionary and unique biobased phase change technology to keep you comfortably cool. These packs can be worn directly on the skin without risking frostbite, tissue damage or discomfort.
Made in The Netherlands.

EZ Cooldown PCM packs can be quickly activated in your refrigerator or freezer. 
It's best to not stack the packs as it will extend their activation time. 
The inserts can also be activated in ice water
Our PCM is USDA certified and REACH complient. Our biobased PCM is non-toxic, low-flammable, durable, reuseable, and 20% lighter than water.
EZCooldown PCM packs are designed and produced in the EU.