Regular price
Sale price
$67.00
Unit price
per
Sale
Sold out
The Bodycool Xtreme cooling vest is a super-evaporative cooling vest which fits snugly around the the upper body. Activation is quick and simple! Just soak the vest in water for one minute, gently squeeze out any excess water and your vest is ready to wear. Instantly creating evaporative cooling for up to 4 hours, depending on the ambient temperature, humidity and airflow.

Provides up to 15°C (27°F) cooling below ambient temperature

Made of stretchy fabrics
Lightweight
Easy to (re)activate
Up to 4 hours of intense cooling

Perfect for outdoor sport, cycling and running
Available in 3 colors
The advanced PVA fabric panels allow the water in the vest to evaporate much faster compared to other evaporation vests. This increases the BodyCool Xtreme vest's cooling capacity immensely. Like our other evaporation vests, the BodyCool Xtreme PVA vest works best in low humid conditions where there is some wind or airflow. We recommend not to wear this evaporation vest under or over other layers of clothing. If you're looking for a cooling vest suitable to be worn under (thick) clothing, please have a look at our PCM cooling vests.

The BodyCool Extreme vest can be temporarily stored damp inside its special storage tube for later use. For longer storage it should be hung to dry. The BodyCool Extreme vest will become stiff when completely dry, this is normal.
To allow easy fitting, the BodyCool Xtreme PVA vest comes slightly activated from the factory. The vest may feel damp or wet when new. This is normal.

Washing your BodyCool Xtreme vest can be done by machine or hand with a mild detergent. Do not tumble dry the vest. Hang to dry in an open area.
Please note that sizes are based on EU T-shirt sizes.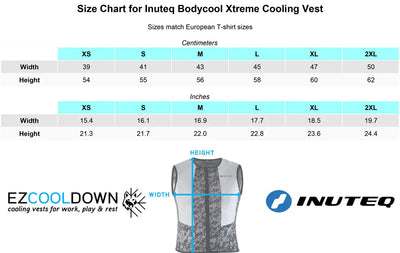 Share
View full details