Regular price
Sale price
$119.00
Unit price
per
Sale
Sold out
The Inuteq BodyCool Smart DRY evaporative cooling vest only needs to be filled with tap water.
The cooling is based on the evaporation of the water in the vest, which consumes energy, creating a cooling effect.
Our evaporative vests cool your body exactly in the same way as your body cools itself. We just supercharge this natural cooling process.

The Inuteq BodyCool Smart Dry vest is very suitable for bikers. It is important however that your protective gear allows plenty of airflow for the vest to function effectively. If you wear leathers or gear with limited airflow, we recommend our PCM Performers vest.
Dry cooling vests are also perfect for use in and around the house or at the office.
Dry cooling vests have been recognized for medical uses. Multiple Sclerosis patients in particular, as well as people who are affected by anhidrosis, could experience a huge benefit by using this type of cooling vest.

The Inuteq Bodycool Smart DRY evaporative cooling vest is a comfortable, form-fitting, lightweight, easy-to-fill vest. This vest provides comfortable cooling under conditions up to 30°C (86°F) when humidity is low.
The vest can be (re)filled with (normal drinking) water (600 ml (20 fl zo) maximum) and cooling will start immediately.
The vest feels absolutely dry on the outside and inside and provides up to 15°C (27°F) cooling below ambient temperature.

Up to 72 hrs of continues cooling

Feels dry on inside and outside
YKK front zipper
Flat filling closure
Machine washable
Anti-bacterial properties
Lightweight, non-toxic, durable
Available in fluorescent yellow and silver/grey
Comes with a FREE PVA Cooling Towel!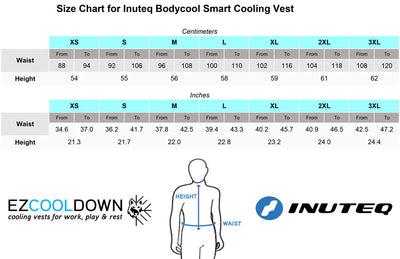 Share
View full details